Gainesville Florida Child Care | What's That Smell?
Our toddler program at A Child's Academy focuses on education as much as having fun. A lot of new parents wonder what an "educational" toddler program is; after all, we couldn't possibly be teaching them algebra! The wonderful thing about one-year-olds, however, is not just their ability to quickly absorb any information that is thrown their way, but also their natural love for learning new things about their world. At a Child's Academy, we like to engage our little ones in fun, educational "sensory projects" at every chance we get. Sensory projects are activities that allow toddlers to explore and learn using their senses; mainly sight, taste, sound, touch, and smell.
The Importance of Smell
When we think about our most important senses, sight and sound usually come to mind. However, most people fail to think about how important our sense of smell is. Our sense of smell is one of the important senses we have for making memories. Have you ever had a warm childhood memory brought back to you by the scent of a certain candle or the smell of hot cocoa on a cold morning? Smells actually have such a strong connection to our memories due to the fact that our olfactory bulb, the part of our brain that helps to process smells, is actually a part of the limbic system, which is the emotional center in our brains.
Peak Senses
Our sense of smell is strongest when we are young, and, like most of our senses, slowly decline as we age. It is important to introduce your young children to as many new experiences as possible, and there are plenty of things you can do at home with your child.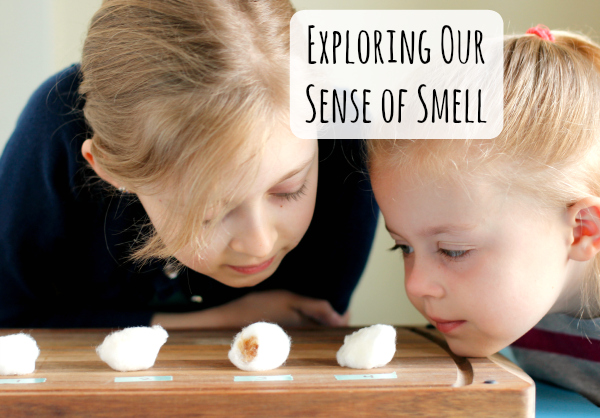 Sensory Project Example
You can try this fun and simple project at home with your little one with just a few household items:
5 small containers (small mason jars, cups, or bowls)
Cheesecloth, napkins, or plastic wrap
5 "smelly" items from your kitchen (for example, cinnamon, vanilla extract, horseradish)
Carefully transfer a small amount of your "smelly" items into the jars. Make sure it is enough to have a distinct smell,  it not so much that it is overwhelming. Place the cheesecloth, napkin, or plastic wrap over your containers and secure it with rubber bands. If you are using plastic wrap or napkins, make sure to punch holes in the top with a fork or toothpick in order to let the scent escape.
Once your scent containers are prepared, allow your toddler to smell each one. Use as many descriptive words as possible for each item that your child smells. Use simple words like "sweet, fruity, tangy, nutty" to describe the different food smells to your child.
Combining Activities
You can combine this project with our "taste" sensory game in order to show your child how closely linked smell and taste are. Talk to your child about how the smells of foods can often let you know something about the way they taste before it even goes in your mouth.
The world is full of new experiences for your little one. With your help and the help of our incredible ACA teacher and, every day can be a new adventure! Contact us today for more information about our Florida child care programs we offer:
Infant Gainesville Florida Child Care
Toddler Gainesville Florida Child Care
After School Gainesville Florida Child Care & School Pick Up
Best Gainesville Florida Child Care