Gainesville FL Preschool
Older toddlers and 2-year-olds are at an age during which their awareness and curiosity of the surrounding world lead them to develop motor skills, communication skills and a greater interest in creative play and social interaction. Such age-appropriate milestones form the basis of our Twos program which is specifically geared toward 2-year-old children. Thematic units and carefully-planned activities incorporate sensory experiences, exploration, art, and language curiosity. A few of the goals of our Flamingo program include successfully expressing feelings and needs, participating in free play, and completing personal care tasks.
Much of the day is spent self-selecting activities. During this time, children are free to explore, question, create and challenge themselves with guidance from their teachers. They also participate in circle time each day during which they discuss the weekly theme, share stories/songs and expand their learning as a group. Children are encouraged, but not forced, to participate in circle time activities and discussions.
ACA is Gainesville's top provider of Preschool Care.
Our team specializes in early childhood education. Our infants program is one of the best in the state. When looking for your Alachua County child care provider don't settle for less contact A Child's Academy to get the best for your child and family. We are Gainesville Florida's preferred Preschool, VPK, and After School care providers.
1. Discover ACA
You found us! The first step to registering your child in one of the care and education programs that we offer is finding the perfect center for your needs. A Child's Academy is Gainesville Florida's #1 Preschool, After School, VPK, and Summer Care provider.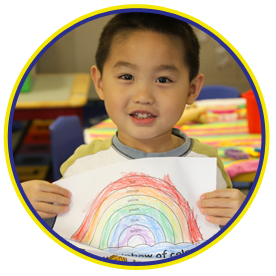 2. Schedule a Tour
Once you have ready up a bit on the programs and curriculum we offer we can coordinate a time for you to visit our facility. Our team will schedule a tour that works with your schedule for you to see our classrooms, play areas, as well as the ins/outs of our Preschool.
3. Select a Program
Once you have seen our facility and met our wonderful staff you're steadily approaching the final portions of the registration process. From here all that's left is talking an ACA team member & discussing what the right child care program for your needs would be.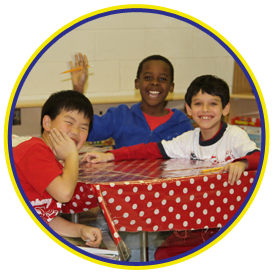 Exploring Together
Curiosity drives a toddler to explore new things, broadening the view of their growing world. At A Child's Academy, we balance learning with nurturing and playtime. Our caring, intuitive, and knowledgeable staff will guide your two-year-old through this exciting stage, encouraging growth as physical, intellectual, communicative, creative, and social beings.
Flexing Little Muscles: Our classrooms provide a safe place for growing bodies to explore and discover the world. Balance, coordination, and motor skills are developed in playtime and social interaction.
Mental Fundamentals: A Child's Academy's teachers will help your two-year-old stretch his or her cognitive abilities through a variety of stimulating activities that teach colors, counting, and categorizing. These and other learning tools will help build a strong foundation as your child broadens his or her intellectual horizons.
Word Play: A firm foundation in language leads to success as a reader. Our teaching approach nourishes early literacy by focusing on basic words and phrases, naming familiar objects, and comprehending instructions.
Artistic Logistics: Encouraging the natural abilities and talents within each child is one way A Child's Academy helps your child become well-rounded. Drawing, music, and dance encourage self-expression and enrich the classroom experience.
Let's Be Friends: Self-awareness becomes pronounced as more time is spent around others. Supervised group play helps a child learn the value of sharing and cooperation. Playing slow, simple, and non-threatening competitive games and singing songs are examples of the group activities we employ at A Child's Academy to encourage the formation of friendships at this critical stage of growth.
Structure with Freedom, and Vice Versa: Sensory, motor, perceptual, and language skills are introduced through materials and activities that are both child-centered and teacher-directed. We recognize that the process rather than the product fosters a sense of accomplishment and pride. Based on the theory that children learn best through activity and application, classroom routines encourage active involvement, meaningful experimentation, and reinforcement through repetition. We have designed schedules that balance structure and free choice with active and quiet times.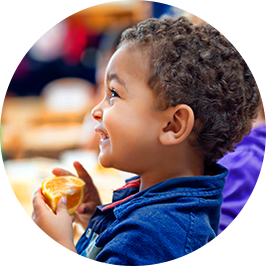 Help With Potty Training
Children also focus on toilet training in the Twos program. Teachers encourage children to sit and attempt to use the toilet during regular diaper changing times. We recognize that each child participates in and completes the toilet training process at different paces and ages. A child will never be forced to sit on the toilet.
We understand the importance of communication between our teachers and your family. That's why, each day, parents have the opportunity to share relevant and current information about their child: sleeping patterns, eating schedule, general disposition, and any special considerations for the day. An electronic daily report
with information specific to your child, is sent to you at the end of each day, offering a list of activities, sensory experiences, art projects, and music and movement activities as well as feedings, naps, and toileting.
For your convenience, a bulletin board is displayed inside of each classroom. On it, you will find the weekly curriculum calendar, menus, notices, and other important information.

Want to know more about our Two Year Old Preschool Program?
Request more info about this program, including Rates and School Info by filling out the form below. Look for the email and we will be in touch shortly.
ACA – Two Year Old Program
A Child's Academy has been serving Gainesville Florida as the go-to preschool, VPK, After School Care, Summer Camp, and Gainesville Daycare services. for over four decades.
 3401 NW 34th Street
Gainesville, FL 32605
 Tel: 352-371-3360
or email any time.
 Early Childhood
Development
 ACA Helps Encourages | Growth & Learning |
INSTAGRAM @ACHILDSACADEMY
Instagram did not return a 200.