A Child's Academy sits on more than 11 acres, with fenced-in playgrounds for each age group, providing safety, security, and room to have fun. The two buildings encompass a spacious auditorium, the only of its kind in the area's preschools and childcare facilities Built originally as a school, the facility is not a retrofit of a retail space or an exaggerated afterthought that is more flash than function. The school is designed to stimulate creativity and not just provide a place for young children to spend their days. Time is too precious not to give your kids the right start in the right place.
But inside these wonderful spaces is a close community of caring, knowledgeable people who are committed to giving your child the next-best thing to being at home with you!
Barbara Harpe married soon after graduating Gainesville High School and, by the time she was 21 years old, was the mother of two children. She had a job at a local bank, although her real desire was to stay at home with her children. After several seriously failed attempts at finding the right person to care for her kids, Barbara chose her children over the job, which lead to the wonderful creation of A Child's Academy.
Barbara soon took in other children in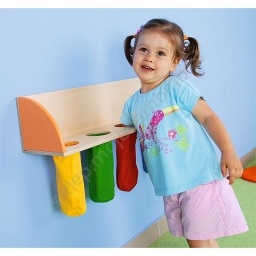 need of loving childcare. Within four years, her passion became her career, and she purchased a preschool. She knocked on neighbors' doors, securing commitments for children to attend her new school and even financial support. Because they all knew that Barbara was an asset to their children's future and the community.
And their investment in Barbara was a smart one. She created a center based on her own concerns and those that other parents shared. Barbara's childcare and preschool was far more than a business. It was an exciting solution, fueled by a woman whose heart was—and is—centered on providing loving care for youngsters.
40 years later, Barbara Harpe has grown A Child's Academy into one of the most desirable childcare centers and preschools in the Gainesville area—one that maintains a perfect health record and a Christian environment. The academics are unrivaled, with her preschool graduates demonstrating more advanced knowledge and skills than their peers from other centers.
With such a long history, Barbara understands what it takes to succeed as a caregiver, educator, and businessperson. Her low staff turnover rate attests to her success—and contributes to the consistency that is critical for the children in her care.