Welcome to our Toddler Daycare Room!
Whew, you made it! For many parents this is the beginning of including others outside of your immediate family for help. It is a big step and we do not take this lightly. It is important that you feel as comfortable with A Child's Academy (or whomever you choose) as though we were your family.
Our Toddler room has an environment that is:
physically safe
cognitively challenging
emotionally nurturing
includes time for uninterrupted play (children under 3 learn through play)

ACA is Gainesville's top provider of Preschool Care.
Each toddler is an active participant in their care giving. Each teacher follows the cues of each individual baby to meet their needs. Because every baby is unique. The most appropriate care occurs in an environment that feels like home where children are free to explore and teachers encourage their emerging interests. Positive results are seen once the child and teacher work to establish their schedule which can take up to 2 or 3 weeks.
1. Discover ACA
You found us! The first step to registering your child in one of the care and education programs that we offer is finding the perfect center for your needs. A Child's Academy is Gainesville Florida's #1 Preschool, After School, VPK, and Summer Care provider.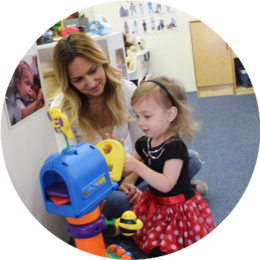 2. Schedule a Tour
Once you have ready up a bit on the programs and curriculum we offer we can coordinate a time for you to visit our facility. Our team will schedule a tour that works with your schedule for you to see our classrooms, play areas, as well as the ins/outs of our Preschool.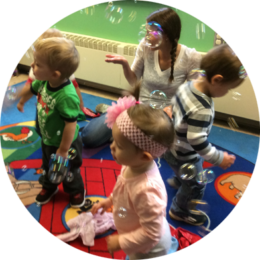 3. Select a Program
Once you have seen our facility and met our wonderful staff you're steadily approaching the final portions of the registration process. From here all that's left is talking an ACA team member & discussing what the right child care program for your needs would be.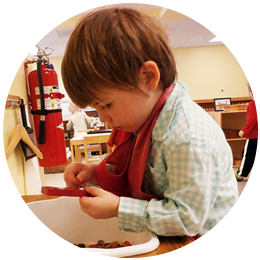 Using Our Senses
Using the five senses is the most natural way for babies to learn. Utilizing the A Child's Academy Curriculum, we plan activities emphasizing sensory, language, music and motor skills in a safe and healthy place.  We begin sign language with our babies and toddlers to give them a way to express their wants and needs before they are able to speak (common signs are "hungry", "tired", "more"). Having an alternative way to communicate before speech develops gives us a way to know what our children are thinking.
Our highly experienced caregivers work with parents to build partnerships through personal care plans, daily conversations and daily reports to keep you informed about your child's day. The Daily reports also keep you informed about supplies that are needed, as well as weekly progress of individual goals such as sitting up, reaching for toys, crawling etc.
To help give our classrooms a sense of home, parents are encouraged to bring in family pictures. ACA has an open door policy and parents are always encouraged to visit and spend time in the classroom. These partnerships, along with consistent, individualized care are key to creating an environment of infants' trust and development.
The health and safety of your child is of the utmost importance to us. Our toys and floors are cleaned and sanitized 3 times a day. Cribs are not shared and crib sheets are laundered on a daily basis. No toys, blankets or other items are allowed in cribs with the child at any time. All items are clearly labeled with your child's name and stored together.
Curiosity drives young children to investigate.  Our toddler program provides choices while supporting curiosity.  Our toddler program includes activities to support learning through exploration, sensory activities, dramatic play, language and small muscle activities.
Our teachers and the administrative staff continuously make themselves available if you have any direct questions or concerns.
The ACA curriculum is a comprehensive plan that contains ample teachings for using books, music, nature and toys to illustrate Christian fundamentals. Themes include lots of age-specific and appropriate stimulating learning activities for ages birth-8 months; 9 – 16 months; and 17 – 23 months.
Once your child becomes more mobile, we stimulate development in a variety of ways:
Physical Engagement. Very young children develop at a fast pace at this stage, so they require gross motor activities to help build and fine-tune their movement skills. We offer several developmental activities for our toddlers, which is fun for both the child and the caregiver.
Intellectual Stimulation. Through verbal exchanges, playing music, making various noises, we encourage your one-year-old to explore objects for size, shape, color, texture, movement, position, and sound. Our goal is to facilitate bottle holding, fingering foods, picking up small objects, and learning to creep, crawl, and walk.
Social Development. By interacting with familiar people and each other, toddlers at A Child's Academy receive reassurance and nurturing at all times. Our caregivers offer a gentle touch and a calm voice while encouraging friendly play.

Want to know more about our Toddler Daycare Program?
Request more info about this program, including Rates and School Info by filling out the form below. Look for the email and we will be in touch shortly.
ACA – TODDLER PROGRAMS
A Child's Academy has been serving Gainesville Florida as the go-to preschool, VPK, After School Care, Summer Camp, and Gainesville Daycare services for over four decades.
 3401 NW 34th Street
Gainesville, FL 32605
 Tel: 352-371-3360
or email any time.
 Early Childhood
Development
 ACA Helps Encourages | Growth & Learning |
INSTAGRAM @ACHILDSACADEMY
Instagram did not return a 200.