Top-Rated Gainesville Child Care Facilities | There are many different teaching responsibilities that every preschool teacher has to face while caring for children in a professional facility. In the majority of our A Child's Academy preschool classrooms, you can find a classroom chart with a daily list of responsibilities to be taken care of. Child care facilities help children understand the importance of working together to strengthen the classroom welcome people that are coming in including peers and parents and lining up at the door when instructed. When children are properly guided through responsibility by a helpful teacher they are being helped to understand the good feeling and satisfaction of a job well done.
Gainesville Child Care Facilities
It is absolutely essential to teach responsibility to children at an early age because it will help develop them into productive members of society in the future. The staff at A Child's Academy goes above and beyond in helping ensure that the children we care for are always safe, nurtured, happy, and learning skills pertinent like responsibility. Here's are some of the things our preschool does in order to help instill good habits upon the children in our care:
Teach The Right Expectations:

You'll often find that some children get frustrated or give up on a task that they wanted to do simply because they cannot replicate the activity the same way an adult they've observed has done. Teaching children patience and having realistic expectations is one of the best things you can do to help your child mature and gain a positive attitude throughout their daily tasks.



Teach Intrinsic Motivation:

Intrinsic motivation can be understood as behavior that is driven by personal satisfaction. Intrinsic motivation is a highly valuable lesson to teach young children because it helps them understand that it is much more effective to work diligently toward a goal because it is naturally rewarding and feels good to succeed. This idea differs greatly from (and is much more effective than) extrinsic motivation, which involves children engaging in certain behaviors in order to earn an external reward such as candy or avoid some type of punishment.
Teach Daily Routines:

When children are presented with a regular schedule they know what to expect on a daily basis. Providing a daily structured environment to children helps them build specialized skills like time-management and provides parents and caregivers a chance to help children further their social development. Teach them sequences e.g 1. Pick a toy 2. Play for a while 3. Clean up BEFORE moving on to something else.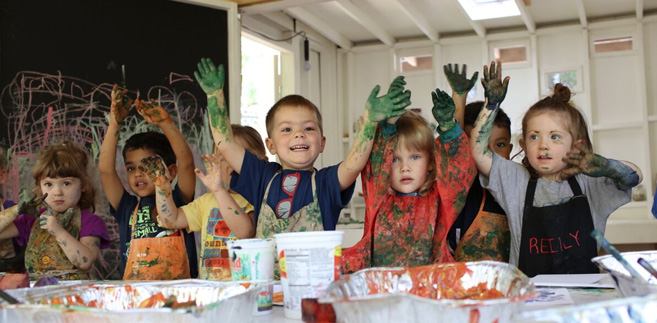 If you have been looking for quality preschool services in Gainesville we've got you covered. A Child's Academy has been serving Alachua County as the region's top preschool program provider for nearly four decades. if you have any questions regarding our programs of Gainesville child care facilities don't hesitate to contact us today.
Instilling Responsibility | Best Gainesville Child Care Facilities