Reading is one of the most important factors for achieving a high-quality early childhood development plan. As one of the top-rated pre-kindergarten schools in Gainesville FL, we understand the value and importance of regularly reading to and with your child. Although we include reading and literacy activities within our preschool curriculum we've found that you need to variate the way you approach children with reading in order to keep them interested in the task before them. There as several ways to do this including choosing a series of story topics and cycling through the subjects/genres. Another is changing the type of reading material presented from say a standard storybook, to a children's magazine or even an educational digital program. Friends of the Library is a local organization that works to help promote community literacy efforts as well as getting children to react with enthusiasm to reading and hearing new stories.
What is "Friends of the Library"?
Friends of the Library is an Alachua County organization that provides community support for the Library District and goes above and beyond to ensure there are well-run events being organized and carried through that promote and help increase local literacy efforts. Friends of the Library in Gainesville carry out a massive book sale twice a year at hugely discounted prices. The goal of the organization is to keep the community's love for reading alive through supplementation library funding and providing direct support to existing literacy programs. The organization is a registered non-profit which is composed of an all-volunteer team of caring individuals. A Child's Academy has developed a close relationship with Friends of the Library during our time operating as childcare specialists in Gainesville FL. We have a high level of respect for this organization and their support of Alachua Library districts and locally corresponding literacy programs.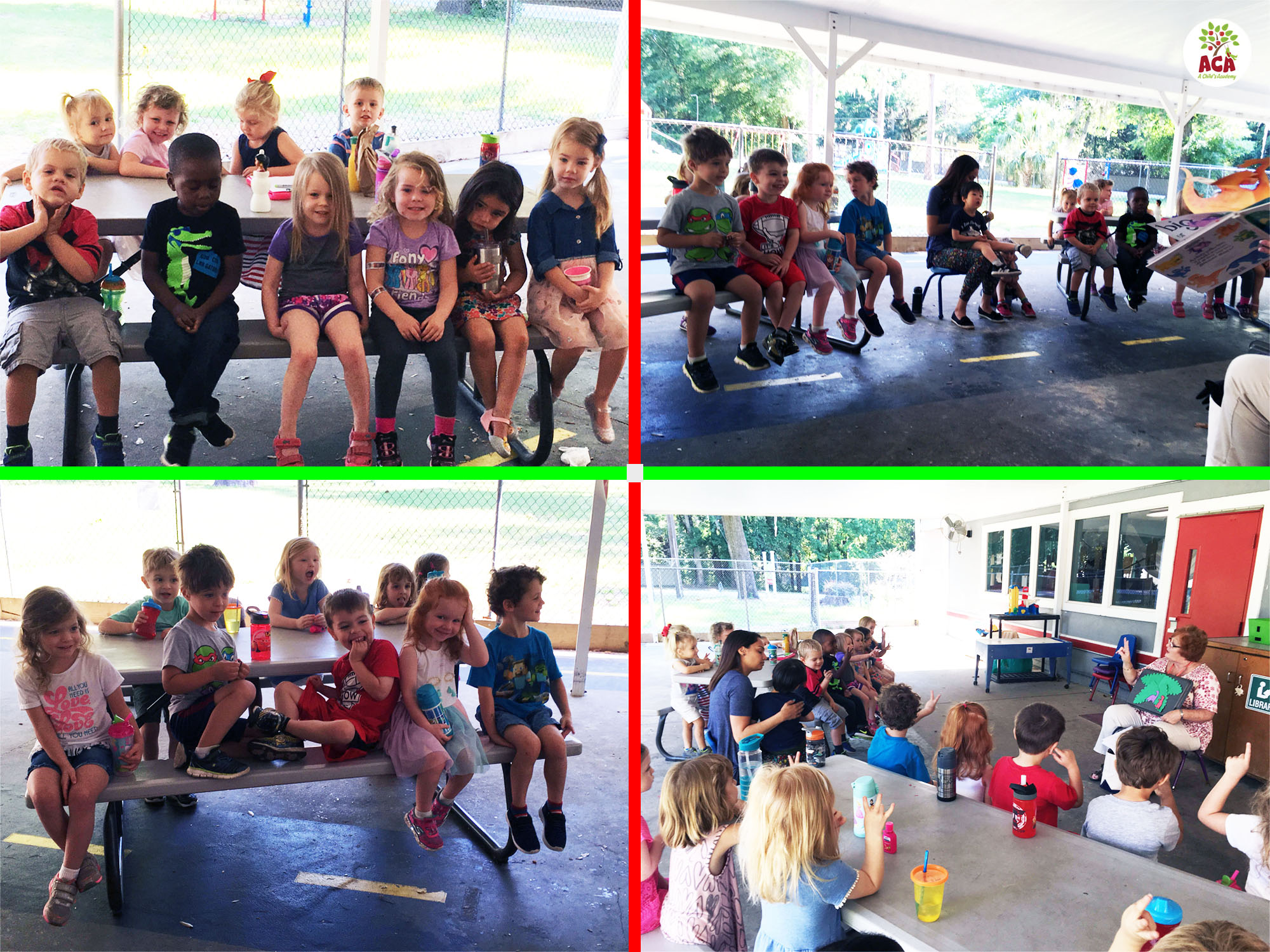 Friends of the Library Visit ACA
Having a guest reader come to visit ACA to get the children in our care more excited about books and reading in general in an undeniable blessing. By regularly exchanging stories and separating time to read with your child you can effectively steer your child toward a better understanding of words and language an increased familiarity with sounds and phonetics. Reading and being read to allows your child to absorb new words and gain a better grasp of generalized language skills.
Earlier this week Friends of the Library paid our three-year-old room a visit and captivated the kids' imaginations with some entertaining stories. If you'd like your child to get the very best from their early childhood development period then including regular reading sessions is absolutely imperative. At A Child's Academy, we have a team of preschool and childcare professionals who implement various tactics to help the children we care for truly get excited about reading.
Ten Developmental Benefits that Come from Reading
The benefits that arise from regularly reading are undeniable especially when it comes to working with children. The following are some of the best reasons as to why reading is important for kids:
It helps them learn new words – expanding vocabulary
It helps improve their reading speed and comprehension
Instills good, healthy habits (decrease screen time)
Reading helps children understand the world and social scenarios better than without it
 Increases safety – Literacy is necessary to interpret everyday signs and warnings
Facilitates academic success in coming years
Helps drive and fuels imagination
The child has fun while doing it
Helps improve grammatical and writing skills cohesively
Increases the child's confidence
If you have any questions regarding A Child's Academy schools in Gainesville FL don't hesitate to reach out today. We hope you've enjoyed this article. Now don't forget to grab a book and get reading with your child!
ACA Schools in Gainesville FL – Childcare & Preschool Services